This is a Blog income report for month 9 of a food blog. I'm sharing with you the strategies I used this month as well as the income, pageviews, and our future strategies so you can be inspired and getting started on your own platform.
It's March, and we are in month 9 of our food blog that is specific to cooking Southeast Asian dishes in three specific regions.
I'm really excited to be sharing with you our status and everything that is going on.
If you are new to my food blog income reports, please know that I'm sharing these to help new bloggers be inspired. I'm a seasoned blogger after doing this for ten years. But that ten years was a lot of trial and error.
I chose not to pay anyone for a couple of years, including paying for any type of education. I absolutely refused to because, after all, the internet has free information.
What I didn't realize after overlooking many notes like the one I am writing right now is that there is something to be said for paying for something so that you can sidestep all the research and just get to learning what you need to know.
Even though I've been blogging for over ten years, I've only done it for ONE SINGLE blog in a totally different niche.
This experiment is to share with you me starting in a totally different niche (lifestyle/parenting to food blogging).
I'm walking through all my strategies along the way, what I've learned, how I've recalibrated my trajectory, and what milestones/metrics I'm capturing to measure our success.
I've been following the Income School's YouTube channel, but haven't really purchased their course (even though I should). But based on all the videos that I watched and binged on, the timeline that they put out pretty much coincides with what I've been able to do.
Here's my Google Analytics for our food blog to prove it: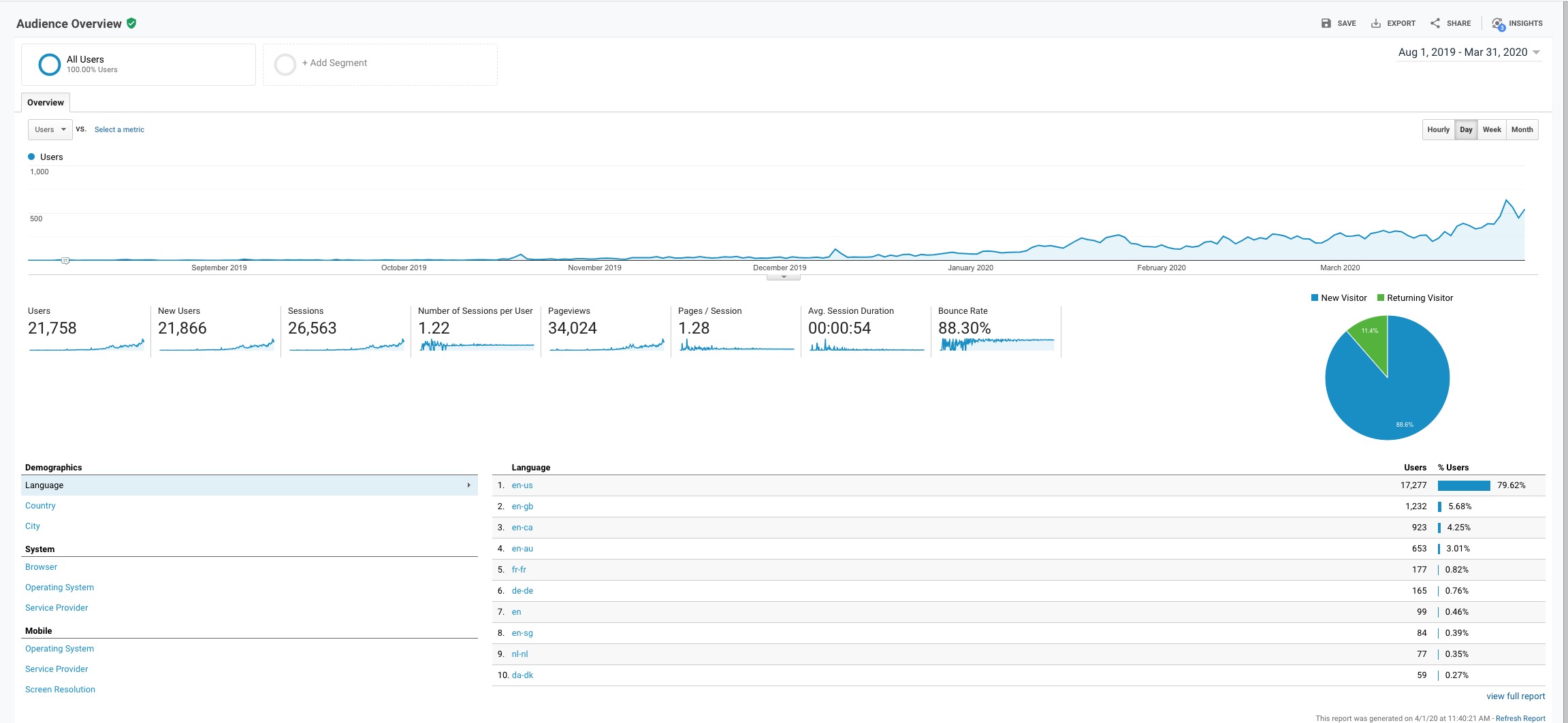 Planned Work and New Strategies
Planned Work and Implementations
In this section, I talk about the things I set out to do, and if I did them. I also share any pitfalls so that you can learn from them.
Using a Kanban Board for Backlog Work
For those that don't know, I work as an IT product owner and have experience as an IT project manager. So my background in managing work for engineers has come in well here. Project management is so very important in ensuring that I'm working on the right things.
Since I'm managing multiple blogs now, each blog is a "project". I've created an Airtable to just capture my ideas.
The "Uncategorized" column is all the ideas that I have in general, the next two columns are the projects I have to capture media like photos and videos for, the "Photos Received" column are things I need to write about, and the "Done" column are blogs I've completed.
This has helped tremendously in times when I had to step away from the blog (like this month due to this world pandemic) for weeks at a time. This helps me remember what I need to get done. Everything should go from left to right!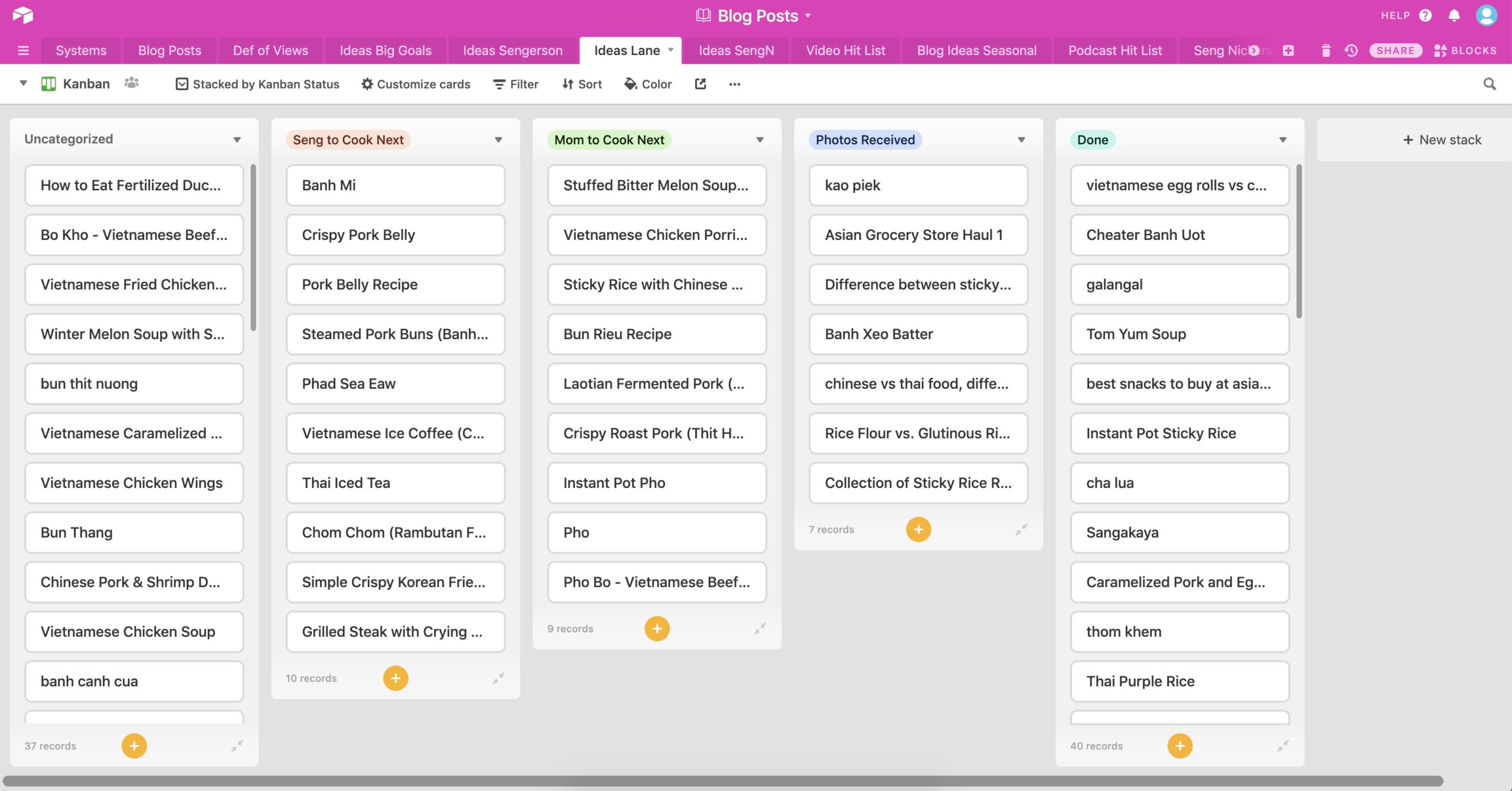 Creating Smaller Content Around a Single Topic
This was listed in the last income report as something I was going to do. I haven't checked the traffic on this yet, BUT I have noticed that creating content around a major cornerstone topic allows me to make it easier to "relink" posts together. This will definitely help with interlinking the posts for the purposes of allowing Google to see me as having lots of content inter-related to those areas, making me hopefully better positioned as an expert in that area.
For new bloggers that aren't in the know, linking to your own posts are important because:
The anchor text that you relink in other posts signals to Google that the content is relevant and that helps with semantically related words that you can relate to
Relinking helps drive traffic from one page to another relevant page by having a call to action.
Toggl
I still love using Toggl to track my work. It's been easier to track my time since it's a web-based tool with an easy to remember website.
Cookbook & Pinterest
I haven't had a chance to even work on creating our first product (the cookbook) nor grow our single social media presence, Pinterest.
New Strategies Outside of Planned Work
There were no new crazy strategies that I thought of or planned for this month's work.
I think it's because I've stayed off of YouTube and Facebook forums for bloggers because of the craziness going on. Things like the pandemic, kids out of school, figuring out how to homeschool kids while working from home – it's just too much for me right now to consume strategies on how to make blogging work better.
I've been trying to find a new normal for all of this and continuing education for the blog took a backseat.
The Blog Metrics and Numbers
Okay, so this is a huge month for us. We have now applied to Mediavine! Since it's our second blog, we only have to hit the 10,000 – 12,000 pageview milestone in order to start making an income from ads from Mediavine!
If you want to compare, here's a link to last month's blog income report for our food blog if you want to open it up in a new tab.
Traffic & SEO Report:
Blog Posts Published This Month: 11
Total Blog Posts So Far: 70
Number of Hours Writing Blog Posts: average around 2.5 hours per post
Number of Newsletter Subscribers: 69
Sessions (last 30 days): 11,111
Pageviews (last 30 days): 13,485
SEMRush Keywords (for United States): 2,218
March Expenses:
Bigscoots Hosting: $33 per month
Drip Email Management: $25 per month
Shutterstock: $15 per month*
I am not counting the food costs for recipes because my mom was going to make the food if I came over anyway! If there is an asterisk next to the cost, it's because it is being cost-shared with my other blogs that I manage.
March Income:
Affiliate Income (Amazon): $8.16 (3x what it was last month)
If I'm being real honest with you, the cost of this has been under $1,000 that has been digitally exchanged and then all of my time that I've spent on this. So I've netted a huge negative number.
To most people, this is where they give up. I'm hoping that me not giving up and persevering through all of this, some good will come out of it. See below for my thoughts on Mediavine.
Strategies for Next Month
Strategies That I Plan On Continuing
Continue Consistent Content Creation
I'm going to try really hard to get a few more posts going again. I have a few bloggers that are listed as "competition" in SEMRush for this food blog now, so I have each of those bloggers and the number of posts that each of them has as milestones.
The food blogger I'm currently trying to catch up to has 79 posts, she's raking in about 85,000 organic page views, and I can see her consistently posting MORE now. I'm the competitive type, so things like this motivate me.
New Strategies That I Plan on Implementing
New Group Boards
I haven't had a chance to implement this like i mentioned in the previous post, but I'm going to try again this month!
Mediavine Application
My goal is to get Mediavine to accept me as one of their 6,000+ publishers. It was between them and AdThrive, but AdThrive had larger traffic numbers to hit before they'll accept you. However, I've had nothing but amazing experiences with my lifestyle blog with Mediavine, so I am sticking with them. My RPM has been hovering at $20+ or more a month with my lifestyle blog. I know RPMs can vary from blog to blog due to various things like topic, but I also have food on my lifestyle blog. I'm thinking that if I can net $10 RPM, that's at least $100 a month to start.
My Favorite Online Blogging Resources or Things I Learned This Month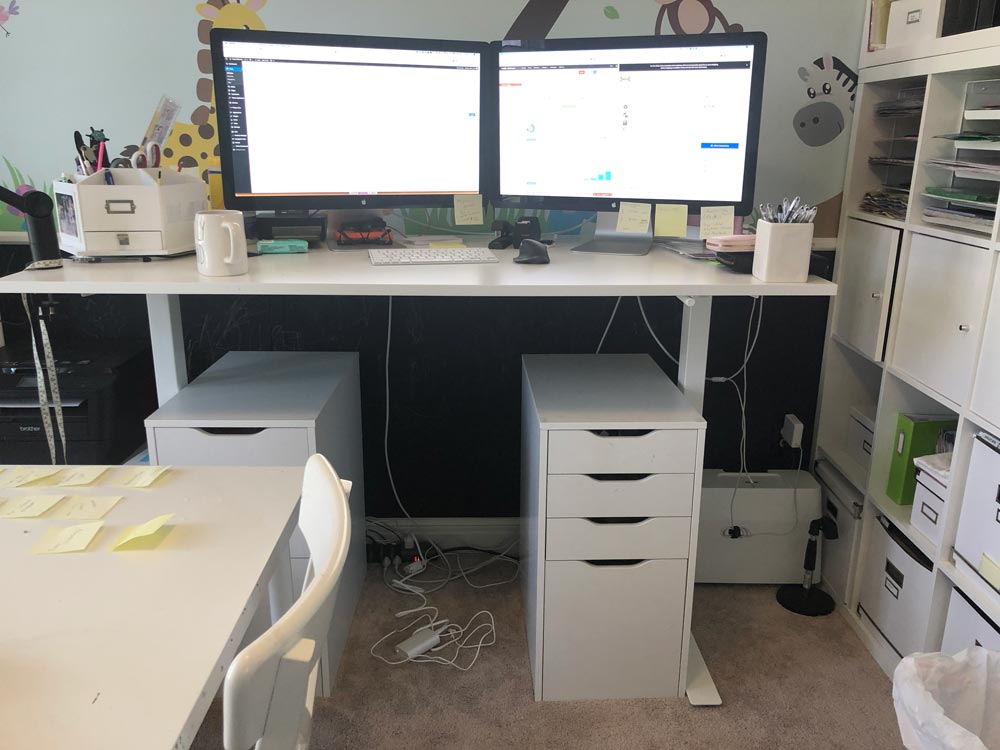 Standing desks are awesome. I purchased mine from Amazon, and having one at the house has proven to be awesome, especially working from home. This is the exact one I have under $300.
Creating video is easy – it just requires your phone. For my lifestyle blog, I've been trying to be more consistent with video creation. I've been using my iPhone to create, and it's been great! I know YouTube is where it's at, but I can't get the kids to leave the house in order for me to video in peace.
Summary
So this month, I honestly didn't post as much as I had planned. Mainly due to our cruise vacation, the pandemic, the homeschooling, the…everything.
I'm just crossing my fingers that Mediavine will accept me as our first big income stream.
MONTHLY INCOME REPORT EMAIL
Follow my mom/lifestyle blog and the income I make from it.
I'm sharing with you my income journey with the mom blog I started in 2009 every month. You'll also become a VIP member and get access to the Vault Resource Library where you'll gain access to freebies and downloads to help you on our journey!
I love spoiling my subscribers!
Once subscribed, I will send you a newsletter each week about new blogging strategies, tips, and updates on new income reports!
Other Blog Income Reports You Might Like
Blog Income Report YouTube Playlist