This is the blog income report for month 15 of our new-ish blog income report. I wanted to share with you this report so that you guys get inspired!
I cannot believe that we're fully monetized with this food blog at this point. For those of you who have been following our blog income report from the very beginning when we were NOT monetized at all, you know how big of a feat this was. Being able to create and produce content with my mom on FOOD has been a super fun adventure. Obviously, we're doing it for both the money and being able to save these food recipes for posterity for my family.
You guys know that I have been following the Income School guys for a while now and used their SEO techniques on figuring out what to write on my blog. I have spent a good fortune going to blog conferences and a ton of different online "courses", but the strategies these guys use are amazing and they work. My lifestyle blog did not follow their process, but it took like 5 years to get to where I was actually monetizing the blog. With the food blog, we used the strategies from day 1, and I think we were monetizing by month 10.
I mean, that is 10 months of writing content without seeing a penny.
I share this with you to motivate and inspire you. You can do this, it takes work where you don't see anything for a while. And then when it happens, it's freaking amazing.
Alright, now what you have been waiting for.
Planned Work and New Strategies
#1. Continue Consistent Content Creation
This has been number one for a while now, and it's worked for us on continuing to generate content. I'm also using the Google Alphabet soup method to figure out what to write about. I keep a running list of ideas, and when I'm ready to write, I literally open up Notion to pick the topic and just start writing.
#2. Pinterest Tailwind
I've started to create more pins with her pictures. Food recipes do really well on Pinterest, and so I've started that up again. We've gained a little traction, but only 9.4% of my traffic comes from Pinterest. However, with that said, I know some of my other blogger friends have told me that more than half of their traffic comes from Pinterest. That is a little metric that tells me that I could garner more traffic if I focused a bit more on Pinterest.
I don't do any of the other social media platforms only because I cannot use that data to help me drive where I need to focus my content on. With so many channels to manage per brand, I've decided to focus on blog, Pinterest, and potentially YouTube in the future.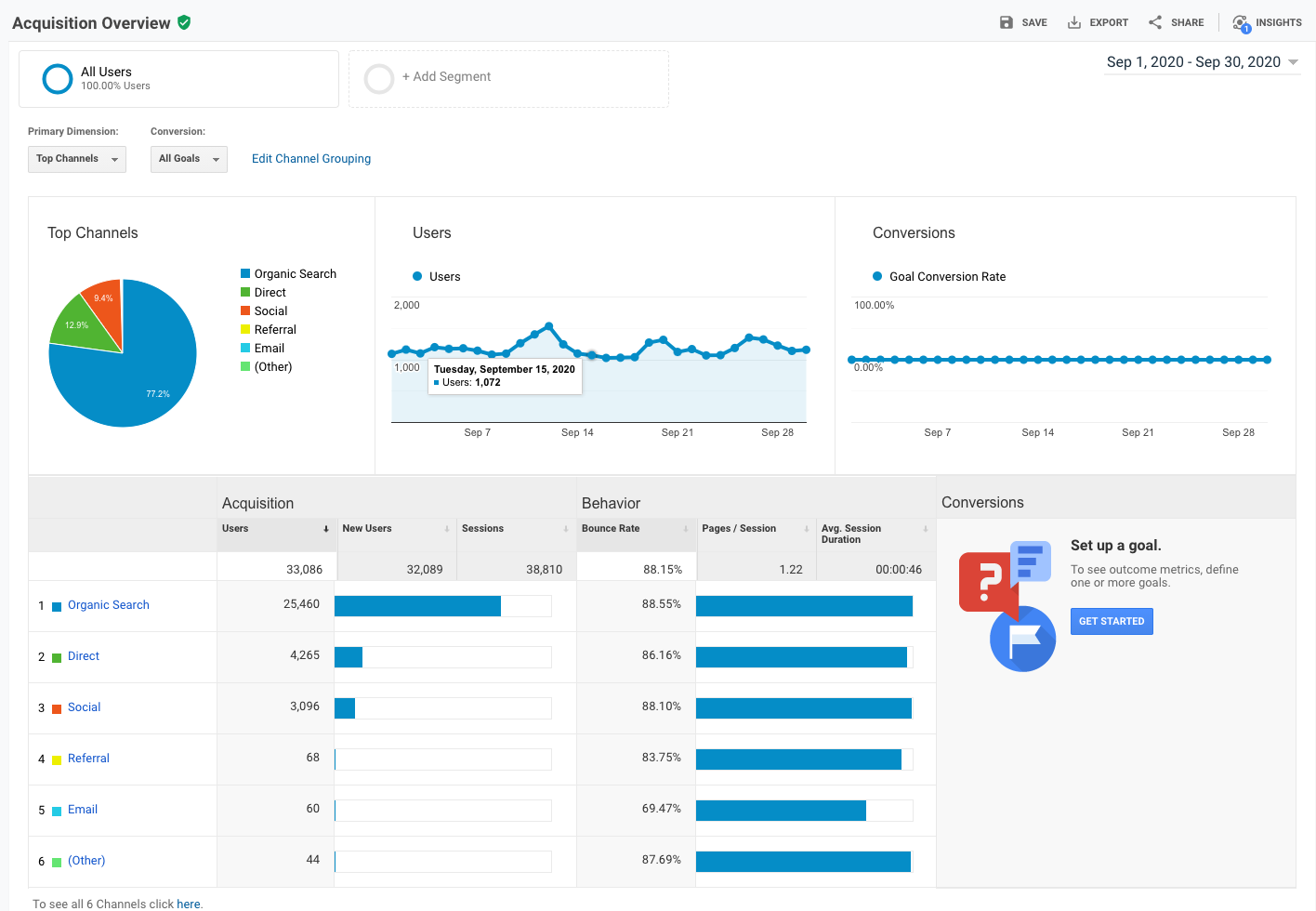 New Blogging Strategies Outside of Planned Work
I have no new blogging strategies, just churning content using Notion as my go to "To Do" list of choice.
The Blog Metrics and Numbers
Traffic & SEO Report:
Blog Posts Published This Month: 5
Total Blog Posts So Far: 100
Number of Hours Writing Blog Posts: average around 2.5 hours per post
Number of Newsletter Subscribers:
This Month Sessions (last 30 days): 38,810 (up from 38,526)
This Month Page Views (last 30 days): 47,334 (up from 46,855)
This Month's SEMRush Keywords (for the United States): 7,052 (up from 6,879)
September Income:
Affiliate Income (Amazon Associates): $38.25
Mediavine Income: $964.59
Total Blog Income: $1,002.84
September Expenses:
If there are multiple sites that heavily leverage that specific tool, I'll share that expense across those brands and divide it out by duration so you can see the cost for that tool specifically for that brand. While I paid the price upfront in one payment for these, I wanted to include the costs over the course of the months to correlate to income reported by month.
Total September Expenses: $86.14
September Blog Net Profit:
The net profit is $916.70 for about 25 hours of work over the course of the month. Another way of looking at this is making about $36 per hour for each blog post.
The net profit on this blog for this month for about 2.5 hours x 5 blog posts is $834.07.
Strategies for Next Month
Strategies That I Plan On Continuing
Continue Consistent Content Creation and Using Notion
Notion is my go to strategy for content creation.
Continue Learning from Income School
I feel like with Income School's Jim and Ricky (and their entire team), they are so transparent on the new changes as well as things they are testing for their community. I continue to learn things from their private podcast. For example, YouTube shorts was something I learned from them as well as have had great success in implementing on my YouTube channel that is the sister to this blog you are reading!
Summary of Food Blog Income Report
I hope you learned a bit about my strategies for the month of September. I know it's been a whirlwind with the kids going back to school and somehow finding time to still write while transitioning into this new phase of life, but the content train needs to continue.
My ultimate goal is to get to around 250 blog posts – and then let this blog coast for a bit. I honestly hope that some of this money helps fund my parent's retirement income stream!
MONTHLY INCOME REPORT EMAIL
Follow my mom/lifestyle blog and the income I make from it.
I'm sharing with you my income journey with the mom blog I started in 2009 every month. You'll also become a VIP member and get access to the Vault Resource Library where you'll gain access to freebies and downloads to help you on our journey!
I love spoiling my subscribers!
Once subscribed, I will send you a newsletter each week about new blogging strategies, tips, and updates on new income reports!
Other Blog Income Reports You Might Like
Blog Income Report YouTube Playlist