This is a blog income report for month 10 of a food blog. I'm sharing with you the strategies I used this month as well as the income, pageviews, and our future strategies so you can be inspired and getting started on your own platform.
We are now into the tenth month guys, and the blog is going strong!
I'm really excited to be sharing with you our status and everything that is going on.
If you are new to my food blog income reports, please know that I'm sharing these to help new bloggers be inspired on the potential. At one point, I was wondering, "Why the heck am I even doing this?"
Once I started getting information from the RIGHT people with real strategies and not just fluff, I realized that it was possible to make an income from blogging (and everything that comes with it) without feeling sleazy. And trust me, I hate sleazy car salesman.
I also am going to start consistently posting a YouTube video on all this, so check out the video below if you want to hear it from the horse's mouth!
Planned Work and New Strategies
In this section, I talk about whether I was able to implement what I said I would do in the last month. This is important because it tells you whether I keep up with my plans or go "squirreling" like most bloggers do sometimes.
#1. Continue Consistent Content Creation
I mentioned before that one of my goals is to "catch up" with food bloggers in my niche. I use feedly to see how many articles they currently have. Here's an example. Under "00 – Cooking with Lane" – I have bloggers that are currently in my niche. If I click through any of their feeds, I can scroll down until I see how many articles they have. I literally use this as my motivation for making myself write. For real. That's what I need, some competition in order to make myself write.
I went through all of the bloggers that I saw in SEMRush that were in my same niche, and wrote down the number of posts they have. Those were basically my "milestones" (e.g. motivation) to see if I can catch up with them. It's ridiculous, but it works. I have been able to create consistent strategies.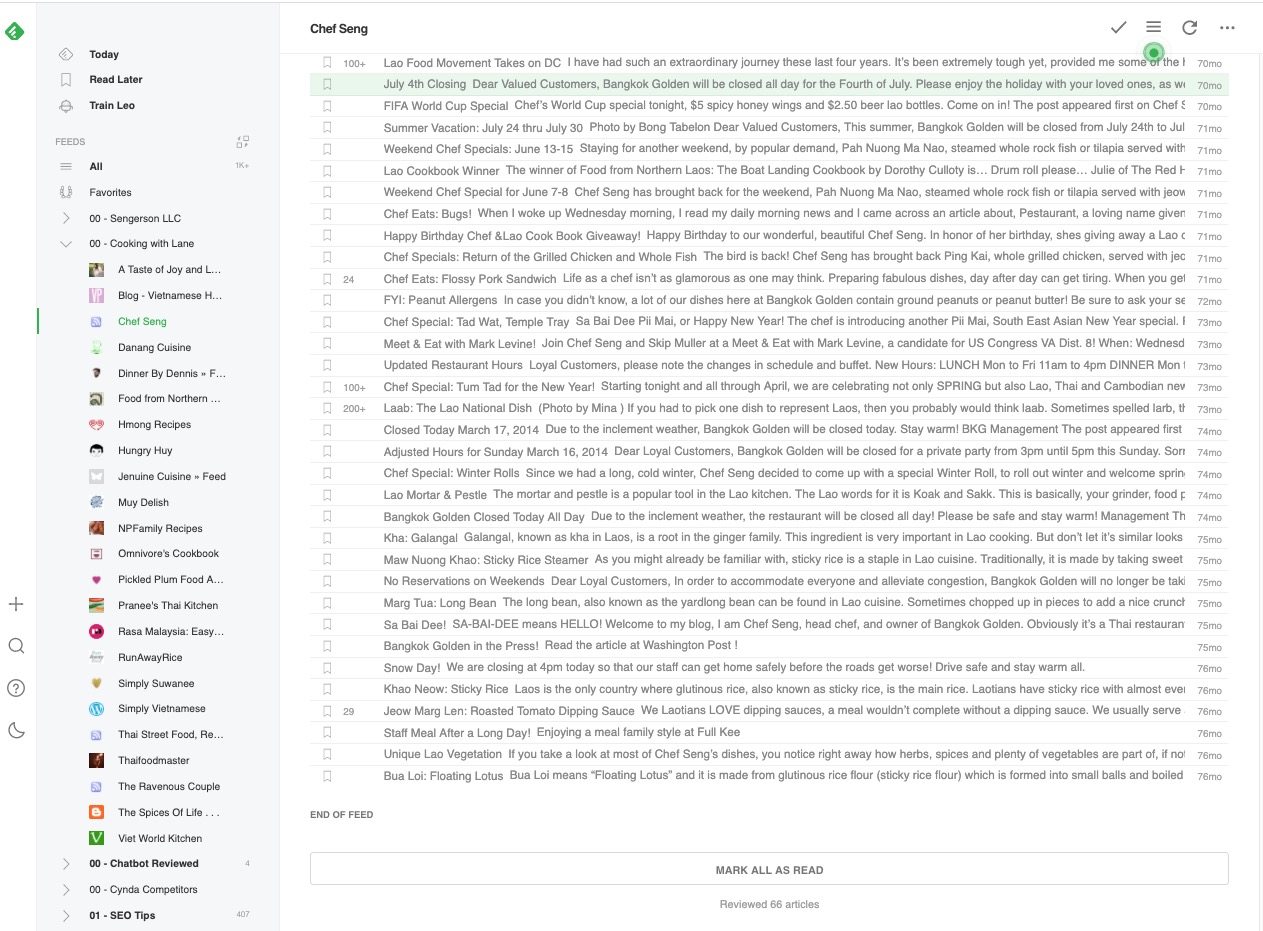 #2. New Group Boards
Pinterest has been on the backburner because guess what? I got accepted into Mediavine!
#3. Mediavine Application Process and Timeline
You guys, my mom and I made it in! I started the blog in August, and now monetizing with the coveted Mediavine Ad Agency in month 9. Let me break down for you the rules:
2nd Blog with Mediavine must have at least 10,000-12,000 sessions
You need to apply and be approved
From the day that I applied to the day that ads were on my blog website, here's how it all went down:
2/21: I submitted at 6,470 sessions (I know, I was testing their limits).
3/18: I got an email saying it didn't match their session requirements at this time.
3/29: Since four weeks passed, my sessions just spiked at 10,225. Sent an email requesting a re-approval. They did not make me re-apply via the form.
4/9: Application was approved.
4/10: Quick sidebar fix was implemented for ads.
4/13: Quick discussion about using Thrive (will discuss below)
4/14: Went live with ads!
I know, what I did by applying at 6,470 was controversial, but we now know that they are dead set at 10,000 sessions, so don't even try. Note: If you are under 25,000 you can always apply with Ezoic, which is another ad company. I have heard mixed reviews.
In regard to Thrive, I use their plug-in for mainly this site and the food blog site because of how easy it is to create pop ups and a few other tools. I used their page builder for a few of their resource pages. Apparently, it screws up ads. So Mediavine had some options for me for pages that were built with Thrive Page Builder. However, because it was only a few posts, I converted them to normal wordpress pages and was fine.
So lesson learned: For post pages, do NOT use page builders (like Thrive, Divi, Elementor) if you want to make ad management companies run ads seamlessly on your site.
#4. Using a Kanban Board for Backlog Work
Remember my Kanban board for projects in the last post? Well, now I have a different strategy based on what I've learned from joining the Income School Project 24 program. They had a great spreadsheet about tracking the number of words as well as headings, which isn't anything too crazy different than what I was doing. However, it seemed like it was easier to track and see the history of your progress using Google Spreadsheets. I'm not sure what I like better. I think I might use the combination of the two, which means more tracking overhead versus writing content.
#5. Cookbook
I haven't even touched the cookbook yet. I think I'm going to wait until the YouTube channel takes off before I start selling products.
New Blogging Strategies Outside of Planned Work
Because I purchased Income School this month the same month I got accepted to Mediavine, I've been binging on their content and learning a lot.
#1. Income School
Like I said, two other established bloggers mentioned that they took their course, and I decided to finally click on the purchase button. Their forums are awesome and their courses are on point. I feel like they are really knowledgeable, down to earth, and I feel like I can relate to them. However, with that said, most of what you can learn from them you can learn on their YouTube channel. You purchase the membership because of the advice that some of the people are providing in the forums on the successes (and failures they are having.
They also released a YouTube course that was also 60-steps. I went through that one as well, and I thought it was okay. The main points of that course was:
Create content there because no one is
Create videos that point to one main video (which should be your sales pitch for your product or service)
Get people back to a brochure website, not necessarily the same site that you are wanting to create a blog in.
Now that I've taken their course and binged on other YouTube channels, I think the gist is that if you have a product or service you want to sell and you are really good at sales funnels, YouTube is it. Ad revenue is pretty low, but the ROI will be on products/services that you sell.
#2. Video Content on Mediavine and YouTube
With the cooking blog, I have been saving up video content from cooking with my mom and haven't used it anywhere until now! I just needed a reason to because my mom blog's YouTube channel hasn't really gotten anywhere.
Now that I know Income School's strategy as well as the ability to monetize video, I created about 15 videos I uploaded to MediaVine and added them to the Create Card plug-ins as well as loaded those same videos to YouTube spaced out until beginning of June.
Once all this pandemic stuff passes, I'll be able to go to Mom's house and start cooking and creating more content again.
So for new strategies, I added YouTube and Mediavine Video Ads!
The Blog Metrics and Numbers
This was a GINORMOUS month for us only because we are celebrating ad revenue!
If you want to compare, here's a link to last month's blog income report for our food blog if you want to open it up in a new tab.
Traffic & SEO Report:
Blog Posts Published This Month: 12 (double from last month)
Total Blog Posts So Far: 78
Number of Hours Writing Blog Posts: average around 2.5 hours per post
Number of Newsletter Subscribers: 114
Sessions (last 30 days): 24,767 (Almost Double)
Pageviews (last 30 days): 31,264 (Almost Double)
SEMRush Keywords (for United States): 2,574
April Expenses:
I am not counting the food costs for recipes because my mom was going to make the food if I came over anyway! If there is an asterisk next to the cost, it's because it is being cost-shared with my other blogs that I manage.
April Income:
Affiliate Income (Amazon): $22.30
Mediavine Income: $125.10
April RPM: $8.17
My hope is that I can net around $15 RPM as an ultimate goal with my traffic continuing to spike as I create content. My content isn't even a year old, so I have some hope that it will continue a solid hockey stick trajectory.
Strategies for Next Month
Strategies That I Plan On Continuing
Continue Consistent Content Creation
Boring I know, boring. A total of 100 pieces of new blog content is my goal (at 1,500 words each).
New Strategies That I Plan on Implementing
Stop Scrolling Through Facebook
I'm in so many communities for blogging that I get squirrely. I think what I'm going to do is stop reading posts that are in my feed like an addict, and be purposeful. Here are the Facebook groups that I plan on visiting on SCHEDULED times to read the feed:
Blogtalk 2.0 – Awesome group of bloggers sharing ideas
Mediavine – Great tips
Theory of Content – Ran by Amber, co-founder of Mediavine and an SEO expert who runs an alarm company
RewardStyle Bloggers – Great tips for Instagram and sponsored post creation
Affiliate Marketing for Bloggers – Group run by Tasha, a lawyer turned blogger, where she gives tips and tricks on affiliate marketing
My Favorite Online Blogging Resources or Things I Learned This Month
Email marketing with Facebook ads work. I'm working with a real estate agent to help her with our online course creation. And it's freaking working. I mean, I knew it would 🙂 But it's always great to see what you've poured your heart and soul into come to fruition. It's kind of like when I was a photographer. I took photos of people's families. When I went back the next year, see the photo that I took of their family blown up into a huge portrait on their wall, it's kind of like, "cool, I did that" kind of moment. Watch my free video here as I walk the real estate agent through the process of creating a sales funnel using Thrive and ConvertKit.
ConvertKit now as a free version. I like the user interface better than drip, but too lazy to move email automation programs again even if it will save me $50 a month.
Don't use Thrive Themes/Architect if you plan monetizing with ad agencies – it will save you a hassle.
Summary
This month was a big one, I'm starting to make consistent income. While the market right now is low for ad placement because of the pandemic, I'm still making an income, albeit little. But I'm hoping I can hit 35K views next month and by end of year, I'm hoping to be over 100K. I know, big, big goals. Stretch goals.
MONTHLY INCOME REPORT EMAIL
Follow my mom/lifestyle blog and the income I make from it.
I'm sharing with you my income journey with the mom blog I started in 2009 every month. You'll also become a VIP member and get access to the Vault Resource Library where you'll gain access to freebies and downloads to help you on our journey!
I love spoiling my subscribers!
Once subscribed, I will send you a newsletter each week about new blogging strategies, tips, and updates on new income reports!
Other Blog Income Reports You Might Like
Blog Income Report YouTube Playlist