We are on month 14 of our food blog, and I wanted to share with you the income report a year later. I'm sharing with you the actual income, expenses, as well as the work effort it took to get to where we are today.
We are now 14 months into our journey with our food income blog. It is so exciting to see how far we've come in a year. Below is a screenshot of our ad revenue.
If you are beginning your journey, please know that it takes a lot of work prior to generating any income. It took us ten months to start making ad revenue on this food blog. For those of you who are about to give up, don't! I have had a ton of friends that I've started their blog and showed them how to write, but they weren't consistent and resilient enough to continue to create content without seeing any progress.
I equate it to working out. You can work out for 7 days, but if you quit, you won't see results. Blogging is the same thing.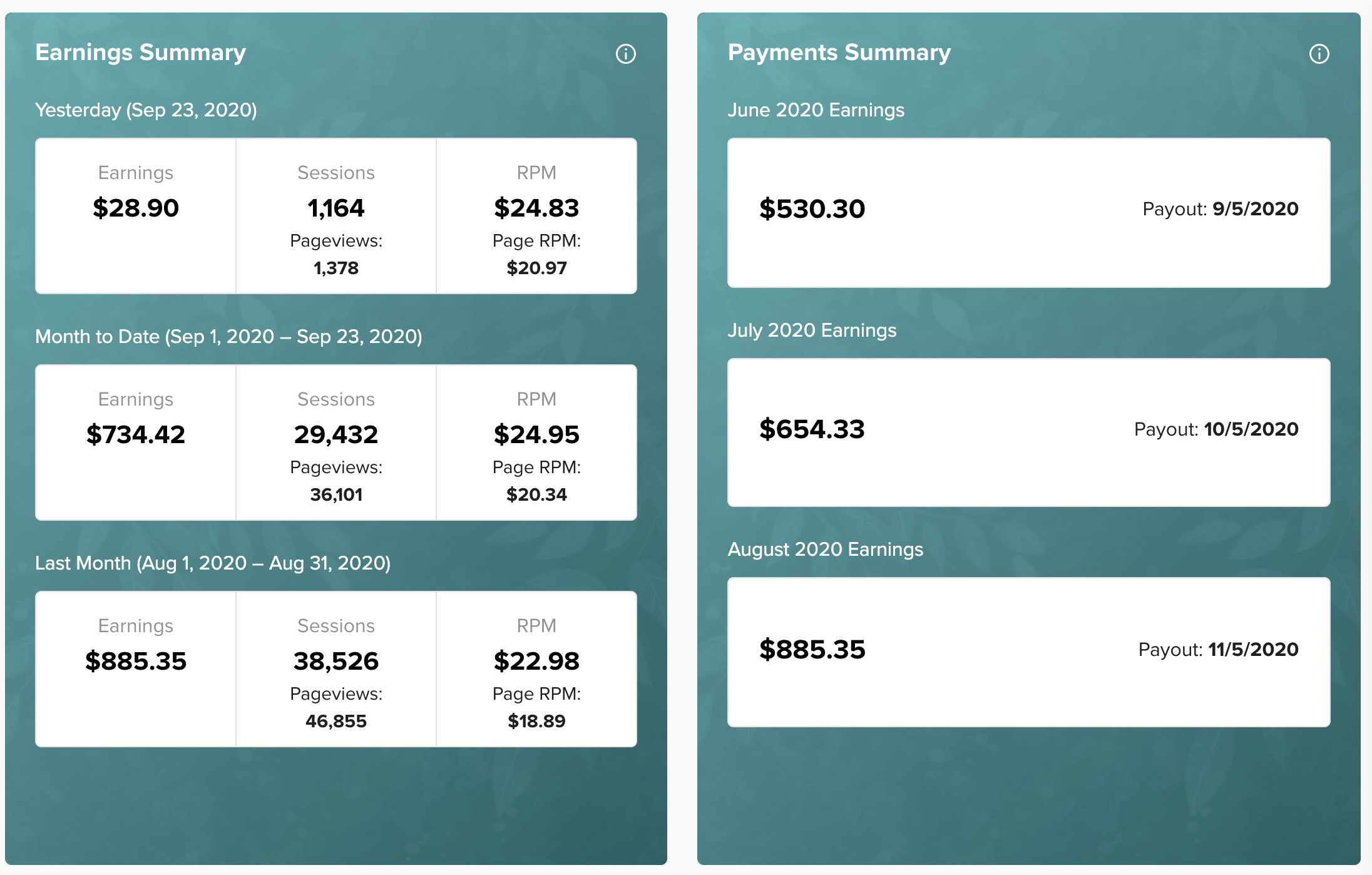 Planned Work and New Strategies
In this area of my standard income reports, I talk about strategies that I'm using in order to continue increasing the profits on my blog.
1. Continue Consistent Content Creation
We wrote 5 blog posts in the month of August. That's pretty good. However, this meant that my lifestyle blog took a hit in terms of time that I had to spend for it. There's only so much time in the day.
2. New Group Boards
I have not done anything for Pinterest. I feel like I should just carve out a whole entire hour to create bulk pins for Pinterest, but it's just so much work I can't handle right now. However, only 3,654 of my pageviews are coming from there. That's a good chunk, but I'm sure I can use it to drive traffic using existing content. It's a trade off of spending time on Pinterest versus writing more new content, and I'd rather write more new content right now.
New Blogging Strategies Outside of Planned Work
None. I'm just continuing to churn out content right now.
The Blog Metrics and Numbers
Traffic & SEO Report:
Blog Posts Published This Month: 5
Total Blog Posts So Far: 95
Number of Hours Writing Blog Posts: average around 2.5 hours per post
Number of Newsletter Subscribers: 368 (up from 249)
This Month Sessions (last 30 days): 38,526 (up from 32,348)
This Month Page Views (last 30 days): 46,855 (up from 39,517)
This Month's SEMRUsh Keywords (for the United States): 6,879 (up from 5,801)
August Income:
Affiliate Income (Amazon): $34.86
Mediavine Income: $885.35
Total Blog Income: $920.21
August Expenses:
If there are multiple sites that heavily leverage that specific tool, I'll share that expense across those brands and divide it out by duration so you can see the cost for that tool specifically for that brand. While I paid the price upfront in one payment for these, I wanted to include the costs over the course of the months to correlate to income reported by month.
Total August Expenses: $86.14
August Blog Net Profit:
The net profit on this blog for this month for about 2.5 hours x 5 blog posts is $834.07.
Strategies for Next Month
Strategies That I Plan On Continuing
Continue Consistent Content Creation
100 blog posts by end of Q3 is my plan. I don't think I'm going to hit that plan unless I stop content creation on my other channels.
New Strategies That I Plan on Implementing
I'm going to continue to use Notion to organize my thoughts and write content! I now have a template that I'm using to make content creation a heck of a lot easier.
In addition, for my food blog, I have a lot of herbs and vegetables that I've referenced in a multitude of recipes. So I plan on creating one entire blog post for herbs for each regional dish we cover, and then interlinking that content. The goal is to show relevancy around the niche. We have a domain score 39 right now, which is pretty high as compared to some of the blogs in my niche.
Summary
Overall, we're excited that we are making over $800 on the blog! Our next biggest milestone will be hitting $1,000 per month on this blog. I would then say this was a job well done on this blog for creating a semi-passive income stream.
MONTHLY INCOME REPORT EMAIL
Follow my mom/lifestyle blog and the income I make from it.
I'm sharing with you my income journey with the mom blog I started in 2009 every month. You'll also become a VIP member and get access to the Vault Resource Library where you'll gain access to freebies and downloads to help you on our journey!
I love spoiling my subscribers!
Once subscribed, I will send you a newsletter each week about new blogging strategies, tips, and updates on new income reports!
Other Blog Income Reports You Might Like
Blog Income Report YouTube Playlist