In this post, I'm going to introduce you to a food blog that my mom and I started and where we are at with our journey.
I've been blogging since 2009 with my lifestyle blog, and I have learned a lot during this process.
In August of 2009, I started a food blog with my mom in part because I wanted something for her and I to collaborate on, I also wanted to capture her recipes in perpetuity, and the entrepreneur in me wanted to see if I could start something from scratch and do BETTER than I did when I first started out.
And let me tell you, I'm WAY further ahead than I was when I started my first blog.
This will be a series on this site, where I will start reporting month to month the actions that I took that month, our traffic stats, new things I learned.
I wanted this to be an opportunity to share with you the work that it takes to maintain a blog and start earning an income.
Naming the Food Blog
When we first brainstormed the name of our food blog, I wanted it to include something about Southeast Asian recipes. After doing some keyword research, no one really searches for "Southeast Asian" food, rather they search for a specific country's food like "Vietnamese cuisine." We also wanted it to be generic enough so that if she did ever want to expand to how she incorporates dishes from Vietnam, Thailand, and Laos into Western American dishes, she could do that.
The Logistics of Content Creation
This food blog is a very specific niche: Southeast Asian recipes.
The plan is that my mom cooks what she normally does on any night, takes photos with her phone, and texts me the images. She then follows up with a list of ingredients for me to refer to.
Once I get the photos, I would ultimate ghostwrite the recipes and blog posts.
How We Plan on Making an Income from A Food Blog
The goal would be we get to 25,000 sessions so that we could apply to Mediavine, which is an amazing Ad Management company that my other blog is part of. I'm thinking that our food blog could net at least $9.00 RPM (that's $9.00 for every 1,000 sessions) based on what other bloggers have shared.
On all the strategies I've incorporated from the Theory of Content podcast, Authority Hacker podcast, and the Income School YouTube channels, I knew going in that it would take about 6 months for my site to rank for any keywords at all and start seeing some traction.
Our stretch goal was to be able to hit 25,000 sessions in one year from the start of our blog, which was on August 7, 2019.
Domain Registration, Hosting, and Blog Platform for a Food Blog
As a seasoned blogger, I knew that it really didn't matter what my blog design looked like. In addition to that reason, I also didn't want to spend that much money on designing a site for user experience until I knew that it would be a site that would do well (and by well I mean at least 25,000 sessions).
Cost Breakdown:
3 Year Domain Registration: $41.97
Hosting – BigScoots: $33 per month*
Poppy WordPress Theme from 17th Avenue Designs: $35.00
Thrive Leads – Email Capture: $100 per year*
Email Management – Drip: $25 per month*
Tailwind Pinterest Management: $50*
If there is an asterisk next to the cost, it's because it is being cost-shared with my other blogs that I manage.
Now, I'll breakdown what companies I used, why I chose them, and other considerations you might want to be aware of.
Domain Registration for Food Blog
I used Dreamhost to register the domain only because I was familiar with the platfrom. Dreamhost was my original hosting company and they treated me so well. Their customer service was actually very responsive and I would highly recommend them to new bloggers. I also have a ton of domain names registered under my current account with them, and didn't want to mess with registering anywhere else and having to manage that process.
In addition to that, I've read somewhere that you shouldn't have your host and your domain registration with the same company so that you diversify your risk of having your content and your "house" owned all by one person.
Hosting A Food Blog
I've recently moved my lifestyle blog over to BigScoots and I have absolutely been happy with them. The issue with Dreamhost and Digital Ocean (which was my second host that I had to hire someone to manage for me, ugh) is that my website would come to a crawl, especially when I had a post go viral.
BigScoots was recommended by several home decor bloggers I knew, so I went with them and have been so happy. They are so responsive. I upgraded to the $99.99 plan, which allowed me to host several websites on this plan.
Platform for a Food Blog
I chose WordPress because it is the best for customization as well as being a platform that 30% of other websites use on the Internet. In order to add to what WordPress had to offer, I decided to purchase a theme from 17th Avenue Designs for $35, which is pretty expensive for a well-designed theme.
My current lifestyle blog has a theme from Restored 316 Designs, but my mom's food blog wasn't quite ready to spend $75 just yet. I would highly recommend Restored 361 Designs because their blog themes are absolutely beautifully designed and full functionality to customize the heck out of your blog appearance by tweaking widgets and a few settings for customization.
Email Management
From everything I learned in the last few years, the one thing that I have been bad at with my current site that I wanted to do right from the beginning was email capture.
Thrive Leads (which is part of their entire Thrive Platform) is used to create/manage pop up boxes to capture reader emails and create specific landing pages to sell stuff (a future thought). So far, it's only been used to create pop-up boxes.
Drip is the email system I use to send automated emails and broadcast emails to readers. So far, I have a grocery store list as a lead magnet to capture emails.
Pinterest
From what I know, food blogs have a heavy hold on Pinterest, meaning that if you are wanting traffic, Pinterest can definitely help you. I use Tailwind in order to help manage not needing to pin my posts every day.
Current State
Now that you know the current state of what we have done so far, I wanted to share with you some metrics. The goal of this is to help inspire you so that as you start your journey, you use this as a guide of the work effort it took to get to this point.
6 Month Milestone Totals
Blog Posts Published: 31
Number of Hours Writing Blog Posts: 85
Sessions: 3,690
Pageviews: 5,392
SEM Rush Keywords (for United States): 230
Income: $0.00
Yes, a big egg. Our goal is at the end of next year, we'll start producing an income!
We also got our very FIRST comment ever for the blog, which is awesome!
I wanted to share with you some reports where I am looking at some of these metrics as well.
Google Analytics for a New Food Blog
Here's a screenshot of Google Analytics for the food blog, and as you can see, it's been starting to grow a massive amount. We're starting to see 100 session days (our goal is to get to 833 sessions per day).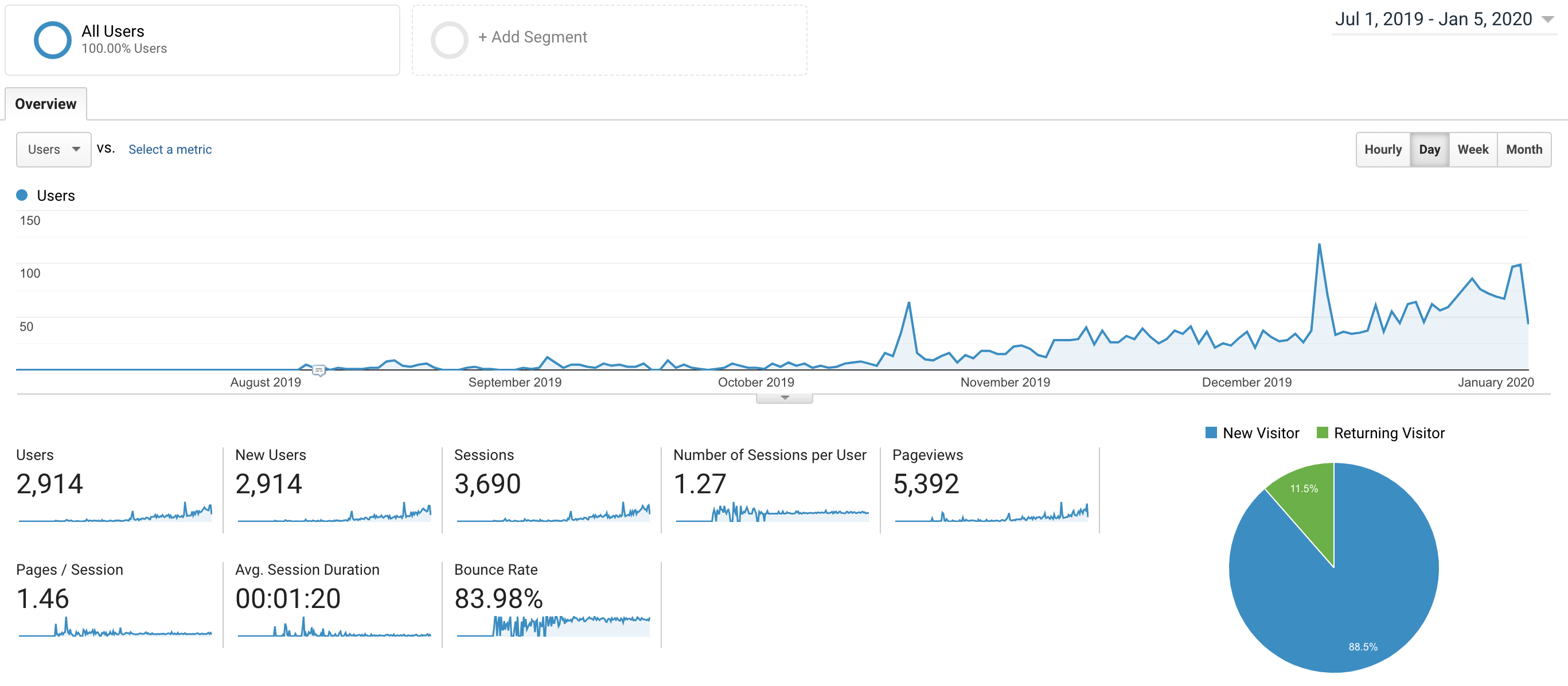 Google Analytics Acquisition Report
This report shows me where we are getting traffic.
SEMRush Keyword Report
This is the domain overview of SEMRush for the food blog, and as you can see under "Keywords by Country", we are now ranking (no matter how bad) for 230 keywords, which is awesome!
December 2019 Income Report
From here on out, I'm going to be sharing these metrics monthly, so I wanted to start a baseline from last month, which has been our biggest food blog traffic to month.
Blog Posts Published: 9
Number of Hours Writing Blog Posts: 30
Sessions: 1,775
Pageviews: 2,337
SEM Rush Keywords (for United States): 230
Income: $0.00
Future Goals
Our stretch goal is to get to 25,000 sessions so we can apply to Mediavine and start our first foray into creating revenue. In order to achieve that metric, my goal is to pump out content as much as I can.
I did some keyword research on foods that she needs to cook (that she's cooked for me in the past), and she also has a list of dinner ideas for the next few months that will also serve as blog post content.
Goal: Create 1-2 blog post per week with at least 1,500 words per blog post.
Summary
Right now, this food blog is NOT passive income. It's very much in the hobby/start-up stage. With a little elbow grease and hard work, this food blog can be successful. I just need to keep churning out content because at the end of the day, that's the game that this food blog is in. There's no magical secret to being found, it's purely writing content that resonates with readers.
MONTHLY INCOME REPORT EMAIL
Follow my mom/lifestyle blog and the income I make from it.
I'm sharing with you my income journey with the mom blog I started in 2009 every month. You'll also become a VIP member and get access to the Vault Resource Library where you'll gain access to freebies and downloads to help you on our journey!
I love spoiling my subscribers!
Once subscribed, I will send you a newsletter each week about new blogging strategies, tips, and updates on new income reports!
Other Blog Income Reports You Might Like
Blog Income Report YouTube Playlist