This is a Blog income report for month 7 of a food blog. I'm sharing with you the strategies I used this month as well as the income, pageviews, and our future strategies so you can be inspired and getting started on your own platform.
We're on month 7 of our food, and if you have been following along since our six month food blog milestone, you might be wondering what are strategy and plans are for the new year.
Before I begin, if you are new to my income reports, this might be the first report you may be reading from me. Let me tell you the reason why I have decided to share my traffic and income reports.
I share these reports to inspire you. As a part-time side hustler, and also having a full-time career, I wanted to show you how possible it was to manage both and to show you the struggles of managing both.
When I first started blogging in 2009, I didn't really have anyone to help me understand what it took to make money from a blog and the strategies that it took to get there. In addition, when I did discover blog income reports, the bloggers already had established niches. I wanted to see a blog income report from the ground up. I found the Pinch of Yum's site and then the corresponding podcast, and it was absolutely amazing that they shared their journey along the way.
NEW STRATEGIES THIS MONTH
There weren't a lot of new strategies I implemented this month other than writing more content. Here are some of the strategies that I'm using now.
Creating More Content than Competitors
Since my niche is very specific, and not a lot of people have in depth knowledge on it, I figured I could easily outwork them by creating more content. So I wanted to do some research to validate whether it is possible to outwork them.
Step 1 – Figure out how many blog posts similar blogs in this niche had
After using SEMRush to see who is ranking for similar words than me, I've been adding them to Feedly (which is an RSS Reader) to have a visual count to see how many blog posts they have.
Here's an example of how I've added my own blog post: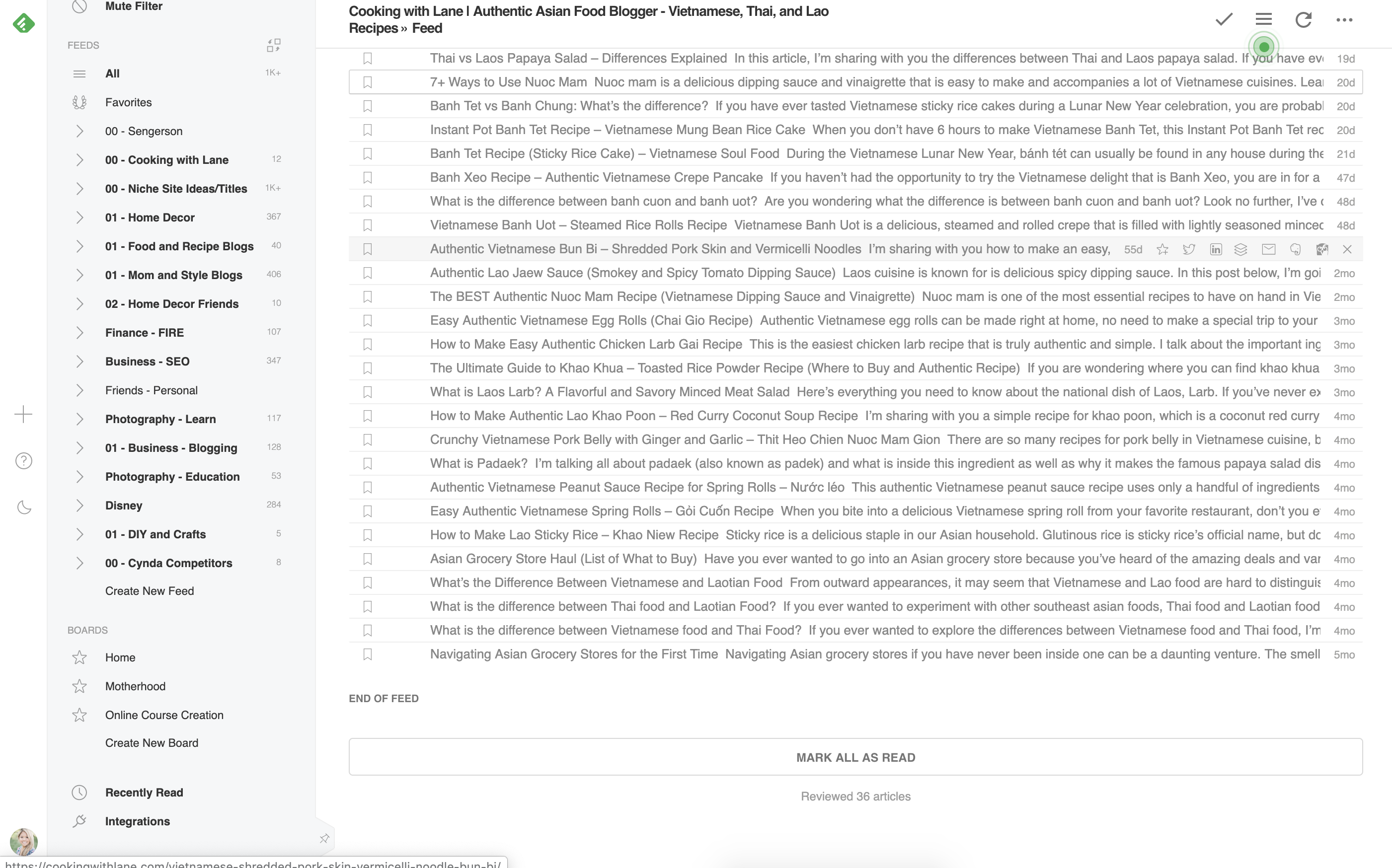 Step 2 – Establish Milestones
One way I'm setting milestones for content creation for this blog is developing milestones based off of the number of articles that my competitor has. I literally have a "Goals Spreadsheet" that I look at to show:
Blog Competitor | # of Articles Written | # of Keywords Ranked For
Each numerical value that I hit allows me to show a visual indicator that I have finally "outworked" them for content, and now I'm moving on to taking on the next competitor.
In my niche, there were about four bloggers that were ranking really well and they had average content, but only 30 articles written. So that provided me the motivation needed to keep creating good content.
Step 3 – Create Processes for Content Creation
I wrote a lot of content this month and was able to do this by creating processes. I had a lot of visual images ready for a blog post. The hardest part about blogging for me is actually writing GOOD content (re: 1000 words being cognizant of SEO).
The content creation process was brutal. I wanted to pump out as much content as I could because I knew that this strategy of just becoming a content machine was working because I already had amazing traction. This is what I did in batches. I would do about 2-3 blog posts per batch.
Keyword Research and Blog Post Title Finalization
Creating the Outline
Creating the Content for the Post
Create Visual Pinterest Images
On average, it takes me about 3+ hours to WRITE the content when I'm doing it well, which means I'm pumping out 1500 words a post.
Add a Shop Page
This month, I added a "shop" page so my readers can shop for different kitchen appliances and utensils, all of which are linked by Amazon affiliate links.
Moved from MAILERLITE to Drip
After listening to podcast after podcast about building your email list as well as other friends, I finally decided to get smart with this blog and start building my list. I needed something "easy" for me to set up.
My main blog is managed on Drip (an email service provider), so I wanted to move it to one place. For me, MailerLite was too clunky (I started the list on MailerLite), which caused me to lose too much time in using something clunky, so I moved to Drip to help with this and to have all of my newsletters in one place.
I then revived my email series to current subscribers and new ones. I sent a warm up email series to current subscribers, then added them on a list to get my emails weekly. I added an automated weekly email series that goes out to 10 weeks, which gives me a pretty good head start.
Google SEarch Console
I used Google Search Console to finally look at keywords that people were looking up, and got some ideas that I finally was able to add to my "Blog Idea Hit List".
Purchased a Course
I purchased a $27 from Jennifer Maker and it was the best $27 I have ever spent. I have not been doing a lot on Pinterest, but that's on my list of things to do in the next month – add all of the current content into Pinterest and automate it with Tailwind!
Start Watching YouTube Videos on Sales Funnels and Facebook Ads
I'm learning in this phase how to create a sales funnel using Facebook ads and Instagram ads. I don't think I'll be using that knowledge yet. However, I've been getting up at 5:30am before the kids get up, and I'm doing weights/cardio while watching other people that have dominated this space. It's pretty incredible – learning and working out at the same time.
Set Up A New Theme
Writing can sometimes take it out of you. I know I've told most of you not to worry about the blog and just WRITE. That advice still holds true. However, after writing 35 posts, I was ready to do a little design on the blog. I decided to install a Restored 316 theme called Captivate, which is the one I use on this site you are reading. I also added a description on my tag and category pages for the purposes of SEO.
SPECIFIC LEAD MAGNET
I created a specific lead magnet for a certain type of food category. It's a five pager that took forever to write. However, my goal is to grow my list by providing valuable content that they'd trade their email for. Once this gets going, I can then sell an eBook to that list.
Summary of Strategies
That was a lot of strategy in one month timeframe, but I was able to accomplish them during lunch, after the kids went to bed, and on the weekends. This month, I spent more time on the food blog than my other blogs! That means I've been neglecting my money making blog in the hopes that I would be able to monetize this one soon.
The Blog Metrics and Numbers
Traffic & SEO Report:
Blog Posts Published: 20
Number of Hours Writing Blog Posts: average around 2.5 hours per post
Number of Newsletter Subscribers: 39
Sessions: 5,248
Pageviews: 7,204
SEM Rush Keywords (for United States): 465
January Expenses:
Big Scoots Hosting: $33 per month
Drip Email Management: $25 per month
Shutterstock: $15 per month*
I am not counting the food costs for recipes because my mom was going to make the food if I came over anyway! If there is an asterisk next to the cost, it's because it is being cost-shared with my other blogs that I manage.
January Income:
I read in a Mediavine forum that I only need around 10,000 sessions in order to apply to Mediavine with a SECOND blog. This was amazing news to my ears! That means I'm really close to being able to apply. My hope is that I can apply in March. Once I apply and get accepted, I'm hoping to make around $150 per month the first few months.
So my net income for this food blog was a net loss when including in expenses! That's okay, I'm hoping it's just a big trajectory from here with the traffic.
New Strategies for Next Month
Consistent Content Creation
I want to focus on creating more content (at least 10 posts), adding the new posts and their links to the existing email automation, and then adding a layer of social networking traffic with Pinterest using Tailwind.
Adding in PInterest
I plan on tackling Pinterest by using Adobe XD, which allows me to create a ton of images pretty quickly. Here's my plan of attack for growing my traffic on Pinterest:
Batch create new images for every single blog post for Pinterest using red or orange (apparently these are the most favored colors)
Upload the images to each of their corresponding posts, but use a code snippet to "hide" it
Pin the image to the most relevant board on the food blog's Pinterest Board, then use Tailwind to automate publishing
Cookbook
I have created a template for a cookbook that I'm planning on continuing to add to and potentially launch in June.
My Favorite Online Blogging Resources This Month
ClarityList – Donnie sends weekly emails about the strategies he's using, and it's pretty incredible because he is so open about it. I love his transparency in his emails, and I've learned a ton from him. For example, he's figuring out how to use emojiis in blog titles using anchor tags. Pretty ingenious if you ask me.
Income School – These guys are down to earth and are so knowledgeable. I haven't bought their course, but I did buy Jim's book that he just launched. It's really well written and I pretty much related to everything he said, especially about my Work Energy being the need to be complimented.
Rick Mulready – He's the first that I've listened to that explains "paid traffic" in a way that makes sense to me.
SUMMARY
That's pretty much all I got this month! I'm hopeful that we'll start getting more traction. If I can at least earn $250 a month this first year, that would be amazing. I feel like I've picked a good niche where there are only a finite amount of people who know about Southeast Asian food and actually know how to make it, and then on top of that write about it. I might be jinxing myself, but I'm hopeful.
Plus, if this thing takes off and we start bringing in money, I might even start a YouTube cooking channel with my mom. That would be REALLY cool.
MONTHLY INCOME REPORT EMAIL
Follow my mom/lifestyle blog and the income I make from it.
I'm sharing with you my income journey with the mom blog I started in 2009 every month. You'll also become a VIP member and get access to the Vault Resource Library where you'll gain access to freebies and downloads to help you on our journey!
I love spoiling my subscribers!
Once subscribed, I will send you a newsletter each week about new blogging strategies, tips, and updates on new income reports!
Other Blog Income Reports You Might Like
Blog Income Report YouTube Playlist